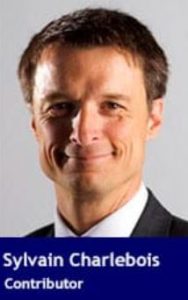 By Sylva­in Charlebois
Pro­fes­sor
Dal­ho­usie University
The fede­ral govern­ment appa­ren­tly still wants to push ahe­ad with its plan to requ­ire all truc­kers ente­ring from the Uni­ted Sta­tes to show pro­of of vac­ci­na­tion star­ting Jan. 15. The plan cre­ates some serio­us problems.
Vac­ci­nes are the most effec­ti­ve way to redu­ce risks asso­cia­ted with COVID-19, stop the spre­ad of the virus and save lives. No doubt. But the situ­ation affec­ting the truc­king indu­stry could be chal­len­ging and impact food access for Canadians.
This is the first public health measu­re with the poten­tial to disrupt tra­de betwe­en Cana­da and the Uni­ted Sta­tes sin­ce the pan­de­mic started.
Accor­ding to the Cana­dian Truc­king Allian­ce, abo­ut 16,000 dri­vers could be for­ced off the road. The fede­ral govern­ment belie­ves its measu­re will only 8,000 dri­vers. Still, we need the­se dri­vers more than ever. And many of them trans­port food pro­ducts across the bor­der eve­ry day. If a dri­ver cros­ses the bor­der into Cana­da witho­ut being vac­ci­na­ted, they will need to quaran­ti­ne for 14 days.
Cana­da imports abo­ut $21 bil­lion worth of agri-food pro­ducts from the Uni­ted Sta­tes eve­ry year, and abo­ut 60 to 70 per cent of the food impor­ted arri­ves on whe­els. That's almost 20 per cent of the food Cana­dians buy in food servi­ce and retail.
And the timing isn't gre­at. Much of the volu­me comes during the win­ter mon­ths when pro­du­ce from the southern sta­tes offers welco­me sup­plies to Cana­dian con­su­mers. Stop­ping some of that busi­ness could exa­cer­ba­te the dri­ver shor­ta­ge the indu­stry is alre­ady expe­rien­cing and could dri­ve up reta­il pri­ces even fur­ther in the weeks to come.
The indu­stry was alre­ady short 18,000 dri­vers. Given the ave­ra­ge age in the truc­king indu­stry, the vac­ci­ne man­da­te could enco­ura­ge many truc­kers to sim­ply reti­re and exit the industry.
Long-distan­ce truck dri­ving isn't the most attrac­ti­ve sec­tor in our eco­no­my. Unli­ke other indu­stries, truc­king works inde­pen­den­tly most of the time. The ave­ra­ge truc­ker will spend more than 250 nights away from home eve­ry year. Com­pa­red to other essen­tial wor­kers, con­tact with other people is mini­mal. A vac­ci­ne man­da­te might not help exten­si­ve­ly in this case.
Sin­ce the start of the pan­de­mic, gran­ting excep­tions to cer­ta­in gro­ups who were deemed essen­tial servi­ces has been con­tro­ver­sial. Most Cana­dians are dead aga­inst it, and the Tru­de­au govern­ment knows it.
The govern­ment has imple­men­ted a strict ino­cu­la­tion poli­cy for civil servants and fede­ral­ly-regu­la­ted wor­kers sin­ce the start of the pan­de­mic. Omi­cron has only moti­va­ted the govern­ment to stick with its reso­lve on vac­ci­ne mandates.
But bor­der access can beco­me a food secu­ri­ty issue for Canadians.
Quebec recen­tly bac­ked down from its vac­ci­ne man­da­te for health-care wor­kers, con­cer­ned such a measu­re would put even more stra­in on the province's alre­ady fra­il health-care sys­tem. The pro­vin­ce fol­lo­wed this by asking wor­kers to com­ply with strict new pro­to­cols to redu­ce risks in hospi­tals and health centres.
Some­thing simi­lar can be done for truckers.
Vac­ci­nes are by far the best weapon to end the pan­de­mic, but we also need to appre­cia­te that not all of us are belie­vers. Ten to 15 per cent of people in any given field resist get­ting vac­ci­nes and will like­ly never chan­ge the­ir minds.
We've lear­ned that the effec­ti­ve­ness of vac­ci­ne man­da­tes to bring abo­ut com­plian­ce is con­stra­ined. We've wre­stled with this for more than a year and most of us will like­ly need to get vac­ci­na­ted more than once a year for an inde­ter­mi­na­ble time. What it means to be ful­ly vac­ci­na­ted this year might not be the same as next year, and truc­kers know that. This is our ino­cu­la­tion new normal.
The deci­sion to imple­ment a vac­ci­ne man­da­te for truc­kers was made when Omi­cron wasn't aro­und. This new variant is incre­di­bly con­ta­gio­us and spre­ads like wildfire.
Omi­cron is alre­ady disrup­ting the enti­re food cha­in in Cana­da. Absen­te­eism rates are at least 15 to 20 per cent in food reta­il, and pro­ces­sing is seeing simi­lar num­bers. The Excel­dor plant in Quebec was for­ced to eutha­ni­ze chic­kens in recent weeks due to low staff numbers.
Many wor­kers are either sick or were expo­sed to some­one who was sick. Omi­cron is hit­ting the enti­re eco­no­my hard and fast, so we sho­uld all be con­cer­ned abo­ut Canada's food access.
From a food sup­ply cha­in per­spec­ti­ve, Omi­cron is a game-chan­ger. The sup­ply cha­in is quite fra­gi­le, more than it's ever been.
Many who have con­trac­ted COVID have been ful­ly vac­ci­na­ted, but in most cases, thank­ful­ly, symp­toms were mild. Still, asking food and logi­stics com­pa­nies to fol­low strict pro­to­cols dra­ma­ti­cal­ly slo­wed things down. A lot of the food reaching sto­res in Cana­da is spo­iled or not as fresh as it sho­uld be. Cana­dians are noticing.
Public health measu­res need to be adap­ted so the food indu­stry can con­ti­nue to pro­vi­de Cana­dians with safe, affor­da­ble food for the next few mon­ths as we try to cope with Omicron's wrath. Food infla­tion is alre­ady a chal­len­ge in Cana­da, and the vac­ci­ne man­da­te affec­ting truc­kers could make things wor­se, espe­cial­ly for fami­lies with fewer means.
We need to be care­ful with vac­ci­ne man­da­tes that could impact the effec­ti­ve­ness of our food sup­ply cha­in. Some measu­res are worth second-guessing.
Can­cel­ling hoc­key tour­na­ments and other events is one thing – poten­tial­ly com­pro­mi­sing the flu­idi­ty of our food sup­ply cha­in is very dif­fe­rent. The sta­kes are much, much higher.
We real­ly need to stri­ke a func­tio­nal balan­ce betwe­en saving lives and keeping Cana­dians fed.
Dr. Sylva­in Char­le­bo­is is senior direc­tor of the agri-food ana­ly­tics lab and a pro­fes­sor in food distri­bu­tion and poli­cy at Dal­ho­usie University.
© Troy Media